Intranet provides smooth and efficient communication in your company. It is suitable for instant deployment, it contains numerous functional modules, and grants you the support and expansion of the solution in future.

Intranet in your business
A corporate network for employees, suitable for immediate deployment. The main objective is to simplify internal processes and provide benefits.
Labour productivity increase
Simplification of administration
Quick search in corporate documents
Efficient internal communication
Time and Attendance system
Corporate culture improvement
Intranet for everybody
Intranet portal is an essential assistant in every business. No matter how many departments or employees you have, no matter how large your corporate data are. Intranet will help you to organize your processes and make your communication easier. Moreover, you can work from home and still access all corporate files you need!
Our Intranet is fully flexible in order to meet the individual specifications of our clients. The most commonly requested modifications are:
Additional customized programming of modules
Adaptation of visual to fit the corporate identity
Linking the intranet to third party services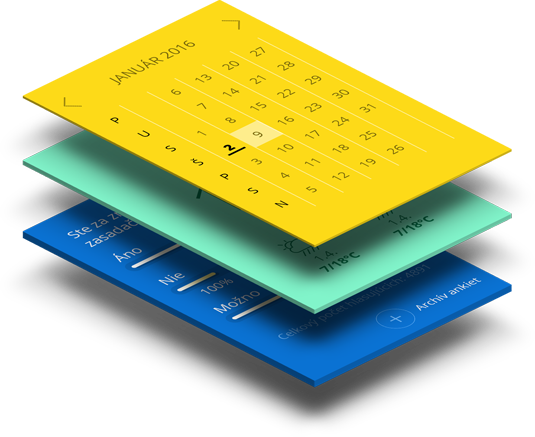 Social network for employees
Intranet is designed to promote mutual communication and information sharing among employees. Each of them can customize the Intranet to their individual needs; they can define only those modules they need and use.
Intranet is fully responsive, it allows you to communicate, view documents or meeting agendas on a mobile device.
"NUMEROUS MODULES AND INTRANET EXPANSION IN FUTURE"
Based on growing demands of our customers and their feedback, we have developed a universal intranet portal, which does it all. Flexibility and numerous modules makes it suitable for businesses operating in different fields.

Time and Attendance
Attendance sheet records of employees and necessary documents for payroll agenda.

News and Pinboard
The most important news and modules are available right on the Intranet homepage.

User groups
Flexible content and categorization of employees according to departments.

Dokuments
A repository for different types of documents, such as internal guidelines, presentations and forms.

Quick links
Define your own links to specific intranet sections or third party applications.

Contact lists
With Intranet, contacts to any employee is always just a click away.

Calendar
Calendar provides you with an overview of meetings, records of completed tasks, or approvals of days off approved by superiors.

Mail (e-mail client)
A full e-mail client offering the option to set up an auto-reply if away from the office.

Online education
Intranet also includes a set of online tests. If needed, you can create your own training courses to educate your employees.

Helpdesk
Quick and efficient request processing and automatic task delegation to the appropriate personnel.

Responsive version
Intranet portal can be used on any mobile device.

Drag & Drop
Intranet can be modified and files can be uploaded just by one mouse drag.

Repository
Everybody has individual repository for document or folder storage.

Dictionary
Quick and simple translations of foreign words making your communication with customers easier.

Search
Intranet contains a full-text search of its entire content.

Photo albums
Snapshots of various corporate events in one place. Create photo albums of your team-buildings and other activities.

Discussion forum
Define the topics of interest and create discussion forums for your employees.

Survey
Do your own research. Getting the answers has never been easier!

Weather
Check the current weather on the intranet pinboard – no need for an actual window :)

Jubilee
Do not forget about your colleagues' name-days, birthdays or other jubilee! The system will automatically notify you.

Customized modules
If requested, it will be our pleasure to customize individual modules and programme them for you.