CMS WebJET embodies 14 years of experiences and development in one package. Easy to use, Drag&Drop images and files, and high security are an advantage for every website.

Easy and transparent website management
CMS WebJET uses fine-tuned users interface with intuitive use. Any text modification, image upload or SEO parameters change can be done in several seconds/clicks.
One of the key pillars of CMS is its speed. Our focus was on the most used features, website search, filters, or user-friendly file upload by Drag&Drop.

Why to buy CMS WebJET?
Quick and easy to use
Allows you to copy text and images from MS Word
Allows you to create backups and transfer content between websites
A universal tool for corporate web, e-shop or portal
Meets security criteria
Regular updates and a first class support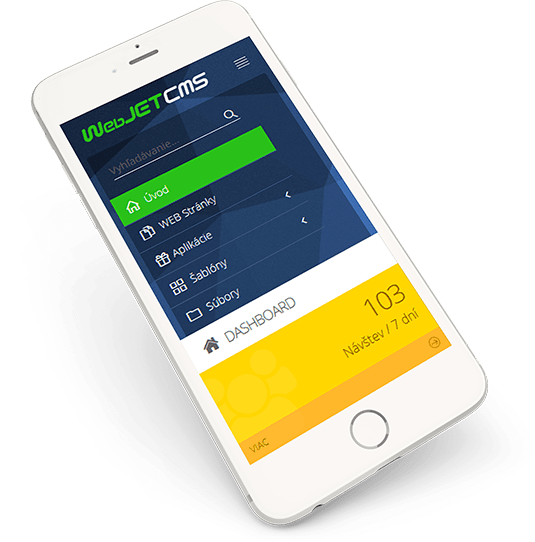 Always at hand and on the go
Do you sometimes need to modify your website on mobile or tablet? We have added a responsive version to the CMS modern graphics, so you can use the system anywhere and at any mobile device and with no restrictions.
CMS THAT DOES IT ALL
Growing demands of our clients and their feedback initiated the development of a universal content management system, which can do anything. Flexibility and numerous modules make the system suitable for various businesses operating in different fields.

Drag&Drop
Copy the Word images and files from your computer just by one mouse drag.

Security
Protected against XSS, SQL Injection, DOS attacks, SPAM with change auditing and attack notifications.

AB testing
Create your own AB testing. Compare the results and improve your website.

Content Import/export
Simply transfer the content from one website to another and to testing environment.

SEO optimization
Full control over URL addresses and metatags, correct HTML code generating and much more.

Multimedia support
Add audio and video files to your content. You can upload them directly to the server or play them from YouTube and Vimeo.

Responsive version
Manage your web while travelling. You can use CMS at any mobile device.

Traffic statistic
Integrated web traffic statistics includes graphs and temperature and flow click maps to enhance usability.

E-shop
CMS allows you to sell online. Set up the delivery rates, payments, export to Heureka and Najnákup.

Newsletter
Contact your customers with a graphic e-mail that includes statistics of opening and clicking the attached links.

User groups
Allow only registered customers to see selected website sections. Crete groups with different rights.

File manager
Advanced file manager with drag&drop options from your computer and bulk upload.